Charges have been filed against a suspect wanted in the fatal shooting of a man found at 8602 Richmond Avenue about 6:35 a.m. on July 15.
The suspect, Cameron Batts, 26, is charged with murder in the 351st State District Court. A 2019 booking photo of Batts, who is not in custody, is attached to this news release.
The victim is identified as Zion Sneed, 24.
HPD Homicide Division Detectives K. Clark and M. Nicotra reported:
HPD patrol officers responded to a report of a shooting in a parking lot at the above address. Officers found Mr. Sneed outside the vehicle suffering from multiple gunshot wounds. Houston Fire Department paramedics pronounced him deceased at the scene.
Officers learned the shooting occurred outside an after-hours club located at 9275 Richmond Avenue. Witnesses told detectives a fight involving multiple people escalated into a shooting.
Further investigation identified the suspect as Cameron Batts and, on Wednesday (September 27), he was charged for his role in the shooting. He currently remains at-large.
Anyone with information on the whereabouts of Cameron Batts, or in this case, is urged to contact the HPD Homicide Division at 713-308-3600 or speak anonymously to Crime Stoppers at 713-222-TIPS.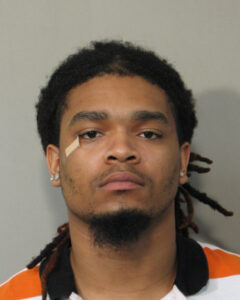 Cameron Batts (2019)
Update: JKS/VHS 9-28-23
SOA/VHS 7-17-23
Inc. #100298423