Houston police have arrested a suspect charged in the fatal shooting of a male at 3119 Bay Street about 2:50 p.m. last Friday (May 15).
The suspect, Rogelio Castillo (H/m, 17), is charged with capital murder in the 338th State District Court. A booking photo of Castillo is attached to this news release.
The identity of the victim is pending verification by the Harris County Institute of Forensic Sciences.
HPD Homicide Division Officers R. Naughton and L. Patterson reported:
Officers responded to a report of a shooting at the above address and found the victim, unresponsive, lying next to a wrecked, black sport utility vehicle. Paramedics arrived and pronounced the victim deceased. He had suffered multiple gunshot wounds.
Officers canvassing the area then found a Hispanic male suspect (Castillo) that matched witnesses' descriptions of a male walking in the area with blood on his hands. Castillo was detained and identified by witnesses as the shooter. Castillo confessed to his role in the shooting and stated he was attempting to rob the victim.
Anyone with additional information in this case is urged to contact the HPD Homicide Division at 713-308-3600.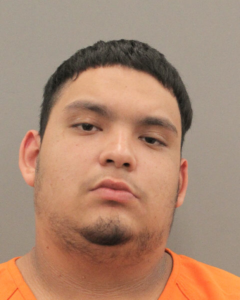 JKS/JFC 5-18-20
Inc. #064363820