Mayor Sylvester Turner Celebrates Team Up Houston's Second Year With Local Students and Houston Professional Sports Teams
In collaboration with the Houston Dynamo and Dash, Harris County-Houston Sports Authority, Sugar Land Skeeters, and Houston Marathon Foundation, Team Up provided Houston youth with the opportunity to learn about off-the-field careers in sports.
Houston Mayor Sylvester Turner welcomed students from high schools based in the Complete Communities neighborhoods and Houston Health Department My Brother's Keeper catchment areas to City Hall to celebrate their year-long achievements in the Team Up initiative. During the celebration, youth heard from Mayor Turner and former NFL player Spencer Tillman and received certificates honoring their accomplishments.
Team Up Houston provides Houston youth with the opportunity to learn about and participate in off-the-field careers in sports. Through collaboration with Houston areas sports teams, students are given the chance to see what careers exist in sports beyond being a professional athlete, which have included learning about sports careers in communications, graphic design, marketing, and sponsorship and sales, among others.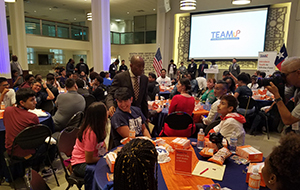 "Investing in our youth is one of the most important things we can do for our city," said Mayor Sylvester Turner. "Team Up provides opportunities to young people in some of our most vulnerable communities, expanding their horizons and encouraging them to stay in school and pursue careers they might not have originally considered. We are proud to have worked with our schools and sports partners and these young people to provide a unique and important program for Houston's youth."
After the City Hall celebration, the students attended the Houston Dynamo's match at BBVA Compass Stadium. Throughout the match, Team Up youth were celebrated through a Team Up banner displayed in the stadium.
My Brother's Keeper (MBK) Houston is an initiative of the Houston Health Department, and Houston Health Foundation launched the Team Up initiative two years ago with the Houston Marathon Foundation and the Sugar Land Skeeters. For the 2018/2019 school year, the Harris County-Houston Sports Authority and the Houston Dynamo & Dash organization also joined as partners. These sports organizations have worked closely with the Urban Enrichment Institute, Scarborough High School, Sam Houston Math, Science and Technology Center High School, and YES Prep to encourage youth from the Kashmere, Wheatley, Northside, and Gulfton neighborhoods to improve attendance and behavior, and pursue college and careers. Whataburger, the food sponsor for Team Up, generously supported this initiative by donating lunches for Discovery Days, as well as meals for the year-end event.
Since the beginning of Team Up, students have shown engagement across all campuses, with 80% of students involved in Team Up participating consistently in the monthly Discovery Days. Students in Team Up all strongly agreed that this program has increased their understanding of the sports business industry, as well as the degrees that they can pursue in college related to sports. 90% of students expressed a greater understanding of how to act in a professional setting and, 70% of students are more likely to aspire to go to college after participating in Team Up.
Houston's Team Up initiative has received programmatic support from Bloomberg Associates, the international, philanthropic consulting arm of Bloomberg Philanthropies, since the launch of the initiative. Bloomberg Associates has been working closely with all Team Up partners to enhance collaboration and ensure all parties work together to provide the best opportunities and outcomes for students.
"Whether as an athlete, spectator, or casual fan, sports have a significant impact on young men and women," said Mike Hopper of Bloomberg Associates. "Team Up leverages behind the scenes opportunities with the business and event presentation departments of program partners to positively impact classroom attendance, behavior, and interest in pursuing college and career. We have enjoyed working with our partners in Houston to bring this opportunity to young people who otherwise may not have received this exposure."