Charges have been filed against a suspect wanted in the stabbing of two men at 4101 Parker Road about 11 p.m. last Friday (Feb. 22).
The suspect, Larry Rodriguez (H/m, 40), is charged with aggravated assault with a deadly weapon and aggravated assault-serious bodily injury in the 178th State District Court.  He is not in custody.
A 2015 booking photo of Rodriguez is attached to this news release.
The victims, Luis Lopez, 44, and Aaron Hernandez, 46, were transported to an area hospital in stable condition.
HPD Major Assaults & Family Violence Division Officers B. Salazar and A. Williams reported:
Mssrs. Lopez and Hernandez were in the parking lot of a convenience store at the above address when a male suspect assaulted both of them with a knife.  Both victims are expected to survive their injuries.  The suspect fled the scene in an unknown direction.
Further investigation led to the identity of Rodriguez as the suspect in this case and he was subsequently charged on Wednesday (Feb. 27).
Anyone with information on the whereabouts of Larry Rodriguez is urged to contact the HPD Major Assaults & Family Violence Division at 713-308-8800 or Crime Stoppers at 713-222-TIPS.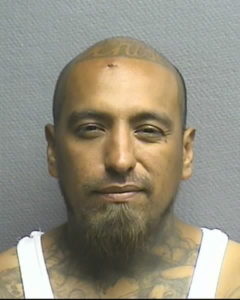 Larry Rodriguez  (2015)
Update JFC/JKS  3-1-19
JKS/JFC  2-25-19
Inc. #023461919