Charges have been filed against a suspect arrested in the disappearance of a child reportedly abducted about 9 p.m. on Saturday (May 4).
The suspect, Derion Vence (b/m, 26), is charged with tampering with evidence in the 180th State District Court.  He is the step-father of missing 4-year-old Maleah Davis.  A photo of suspect Vence is not available at this time.
HPD Homicide Division Sergeant J. Horn, Detective K. McDonald and Officer J. Escobar reported:
Suspect Vence reported to police that on May 4, he was en route to George Bush Intercontinental Airport when he heard a sound that made him think his silver Nissan Altima had a flat tire.  He pulled over on the Eastex Freeway (North U.S. Highway 59) near Greens Road.  Vence told police Maleah was then taken by three Hispanic males in their 30s, driving a 2010 blue Chevrolet crew cab pickup truck.  Due to injuries he said he suffered during the abduction, he reportedly lost consciousness for about 24 hours, regaining it on Sunday (May 5).  He said he found himself on foot in Sugar Land and walked to Houston Methodist Sugar Land Hospital for treatment.  He then reported Maleah missing.
Although Vence reported his silver Nissan Altima was taken in the abduction, surveillance video showed someone in that Nissan Altima dropped Vence off at the Methodist Sugar Land Hospital on May 5.
Also, blood evidence obtained from Vence's apartment has been linked to Maleah.  Vence was also observed carrying a full laundry basket from the apartment.
On Thursday, Vence's silver Nissan Altima was recovered in Missouri City, Texas.  The laundry basket was found in the trunk of the Nissan along with a gas can.
Today (Saturday, May 11), members of the Gulf Coast Violent Offenders Task Force arrested Vence without incident at a relative's home in Sugar Land.
Anyone with information on this case, the whereabouts of Maleah Davis, or who knows who sold the gas can (pictured below) to Vence is urged to contact the HPD Homicide Division at 713-308-3600 or Crime Stoppers at 713-222-TIPS.
Any/all updates on this story will be disseminated on our HPD Twitter page.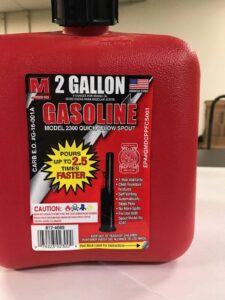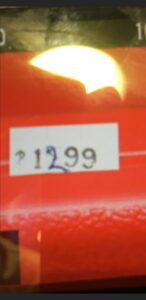 UPDATE:  KJS 5-11-19
JFC   5-5-19
Inc #055961119