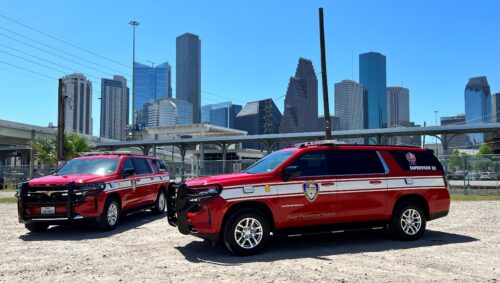 Today, the Houston Fire Department (HFD) placed in service two state-of-the-art Supervisor Emergency Response Vehicles. The units are assigned to EMS Supervisors at station 30 and 82.
They are equipped with a fridge-freezer combination to ensure optimal temperature regulations for emergency cardiac medications. To assist with easy access of emergency equipment, they feature rear locking dual storage compartments and a three-tier storage system located directly behind the front passenger seat.
HFD Supervisors provide leadership to the more than 100 basic and advanced life support units, often assisting with interventions during transport. Supervisors and their team respond to emergency calls, conduct clinical assessments, and implement interventions as needed. Supervisor's roles are so dynamic, introducing these new features will expectantly aid in delivering the highest degree of customer service.
These two units will not only provide exceptional service to the community, but will also be continuously evaluated by EMS professionals. The evaluations will be used for future enhancements to next year's wholesale replacement of the remaining supervisor vehicles.
A special thanks to the Honorable Mayor Sylvester Turner for his continued support of the HFD fleet replacement program.