Charges have been filed against a suspect arrested in the shooting of a man that occurred at 8100 Sands Point around 11:10 a.m. on Thursday (January 24).
The suspect, Carlos Cabrera (H/m, 19), is charged with aggravated assault with a deadly weapon in the 351st State District Court.  Cabrera is accused in the shooting of Julian Cano, 55, who was transported to an area hospital to be treated for his wounds.
A booking photo of Cabrera is attached to this news release.
HPD Major Assaults & Family Violence Division Detectives N. Arellano and C. Castellani reported:
HPD patrol officers responded to a shooting call at the above address and found Mr. Cano with a gunshot wound.  He was transported by HFD paramedics top the hospital.  Two males were detained at the scene.
Further investigation and witness statements identified Cabrera as the suspect in this incident.  The other male, a juvenile, was questioned and released.
The investigation is continuing.
Anyone with information in this case is urged to contact the HPD Major Assaults & Family Violence Division at 713-308-8800 or Crime Stoppers at 713-222-TIPS.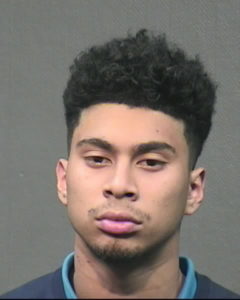 Carlos Cabrera
VHS/JKS/KJS  1-28-19
Inc. #010278519