Charges have been filed against a suspect arrested in a fatal hit-and-run crash that occurred at 900 Southwest Freeway (South U.S. Highway 59) about 1:15 a.m. on Saturday (April 22).
The suspect, Alan Bryant Hayes, 34, is charged with felony driving while intoxicated (3rd offense) and failure to stop and render aid in the 351st State District Court.  A booking photo of Hayes is attached to this news release.
The identity of the male victim, 20, is pending notification to family members by the Harris County Institute of Forensic Sciences.
HPD Vehicular Crime Division Sergeant R. Dallas and Officer L. Pho reported:
The driver (victim) of a red Buick LaCrosse was traveling northbound on the Southwest Freeway when the vehicle became disabled on the main lanes of the freeway.  The victim exited the vehicle and was attempting to push the vehicle from behind while a second person stayed in the driver's seat.  Hayes, driving a black Volkswagen Beetle also northbound on the freeway, struck the victim and his vehicle.
The victim was pronounced deceased at the scene by responding Houston Fire Department paramedics.  The second male was transported to an area hospital with minor injures.
Hayes fled the scene and was followed by a wrecker driver to the 4500 block of Caroline Street where he then fled on foot.  He was later taken into custody by responding HPD South Central patrol officers.  Hayes was transported to an area hospital for treatment of minor injuries and subsequently charged for his role in the crash.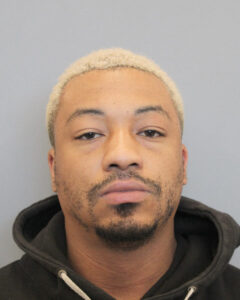 Alan Bryant Hayes
JKS/JFC   4-24-23
Inc. #056427823-X