Charges have been filed against a suspect arrested in the death of a child at 8501 Broadway about 10:55 p.m. on Saturday (March 9).
The suspect, Andrea Webb (b/f, 21), is charged with injury to a child in the 209th State District Court for her role in the death of her daughter, Samantha Bell, 5, who was pronounced dead at the scene.  The child's cause of death is pending verification by the Harris County Institute of Forensic Sciences.
A booking photo of Webb is attached to this news release.
HPD Homicide Division Sergeant J. Horn and Detective B. Roberts reported:
Webb called 9-1-1 and initially stated her daughter had fallen from a second story balcony of their apartment at the above address.  Officers observed Samantha to have visible injuries to her face, chest, abdomen, arms and back, which were not consistent with a fall.
Webb later admitted to HPD homicide investigators she fabricated the story regarding the fall.  Webb then told officers she made Samantha sit against a wall in the home for multiple hours without support of a seat.  When she failed to do so, Webb struck her with a belt.
The investigation is continuing.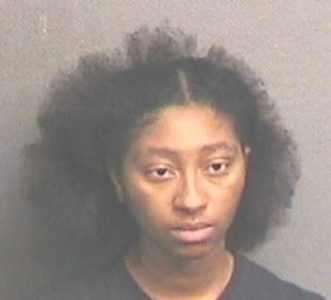 Andrea Webb
VHS/JFC  3-11-19
Inc. #030273619