It's often assumed that properties that are run down or abandoned can't be used again and will just sit there wasting space. But this isn't true. There are lots of companies like Ben Buys Indy Houses that buy run-down properties and transforms them into livable spaces again. Projects like these can transform neighborhoods and revitalize the local economy which is why local governments often fund these renovations too.

This is why Houston Mayor Sylvester Turner kicked off the first quarterly Demolition Day, joining Houston Contractors Association (HCA) volunteers to deliver the bulldozer's first blows to a dilapidated residential building at 5709 Liberty Road in the Greater Fifth Ward neighborhood. The building was one of five dangerous buildings razed by HCA in Council Districts B and D. The mayor attended Saturday's event in City Council District B, which is represented by Vice Mayor Pro-Tem Jerry Davis.
Demolition Day events are intended to inform residents about the city's 2019 Demolition Initiative projects in neighborhoods throughout the city. In the first quarter, approximately 106 blighted structures in several council districts are being torn down, including projects completed by property owners in compliance with official demolition orders. Work by city crews and contractors will continue over the next several weeks until all projects have been completed and debris has been cleared from the targeted lots.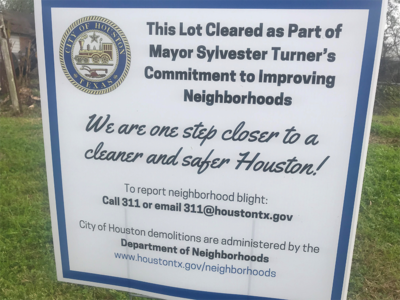 Demolitions are part of Mayor Turner's ongoing initiatives that focus on making neighborhoods cleaner and safer to improve quality of life for Houston residents. Major projects completed under the mayor's leadership include the long-awaited tear-down of two blighted, crime-laden complexes, Oakbrook Apartments in 2016 and Crestmont Village in 2017.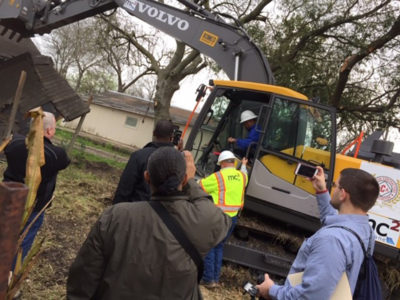 "As mayor of this great city, ensuring that our neighborhoods are safe and livable is a top priority, and this means tackling the problem of blighted abandoned buildings that degrade our neighborhoods, harbor vagrancy and crime, and pose real safety concerns for residents," said Mayor Turner. "Today's demolitions and others planned for this quarter and the rest of the year are part of our concerted effort to tear down these dangerous eyesores."
"We extend our gratitude to Houston Contractors Association volunteers for generously contributing their time, expertise and equipment to help in this effort today," the mayor added. "Thanks to them, I am certain that hundreds of residents, including seniors and families with children, are breathing a sigh of relief and feeling safer."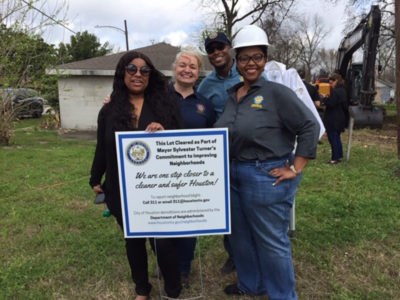 "HCA is proud to help Mayor Turner remove these dangerous abandoned homes from our neighborhoods," said Jeffrey Nielsen, Executive Vice President of Houston Contractors Association. "This is a project that we have supported since 1993, and it has been very successful in improving quality of life in some of our city's older neighborhoods. Demolition Day removes dangerous abandoned homes that have become magnets for unwanted activity in our community. It's an effort to beautify our neighborhoods, reduce crime and create a safer environment for our children to enjoy."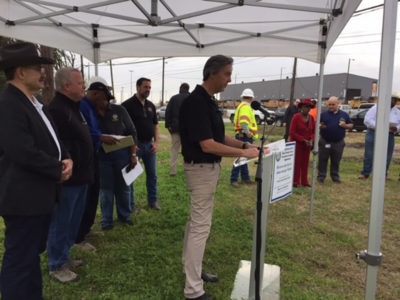 "We are excited to continue our efforts to get rid of the dangerous buildings that plague many Houston neighborhoods, with many first quarter projects already completed specifically targeting dilapidated residential homes," said TaKasha Francis, Department Neighborhoods director. "Property owners are responsible for maintaining their properties, so we always aim for owner compliance with demolition orders and this saves taxpayer dollars."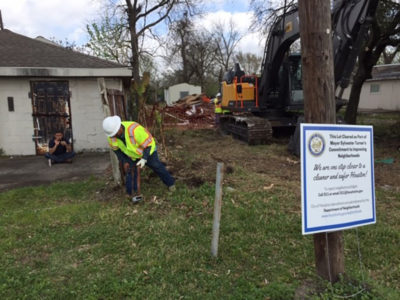 "Demolition Day is an important public-private partnership, for demolitions are major, costly undertakings and the legal process can take years to complete," the director added. "When demolitions are not an option, we carry out 'make-safes' to secure and clean abandoned properties. We reach out to civic leaders and residents to get them involved in cleanup and beautification projects and inform them about city codes and the importance of reporting issues to 311. It takes multiple strategies and working together to make a positive difference."