HOUSTON – Houston Public Works reminds the community to "Protect Our Pipes" this holiday season to help prevent sanitary sewer overflows. Sewer overflows happen when untreated wastewater backs up into our streets and/or homes. More than 70% of sewer overflows in Houston are caused by clogs from grease and wipes. Houston Public Works is asking the community to do their part to prevent them from happening.
Houston Public Works responds to nearly twice as many sewer overflows due to blockages caused by grease during the holiday season. Fats, oils, and grease poured down the sink and wipes flushed down the toilet are the main cause of sewer overflows.
The "Protect Our Pipes" campaign asks the community to put oils & grease in the trash, and to only flush the "3 P's" – pee, poo, and toilet paper. Neighbors can properly dispose of grease by following three steps:
–       Pour leftover fats, oils & grease into a container
–       Cool it
–       Toss the container into the trash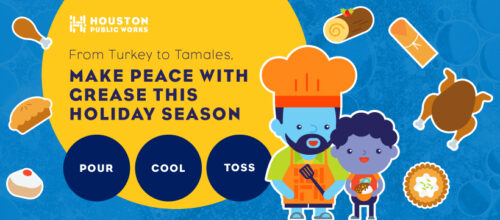 MEDIA INVITED TO TOUR 69TH STREET WASTEWATER TREATMENT PLANT
Houston Public Works invites the media to tour the 69th Street Wastewater Treatment Plant, in collaboration with our "Protect Our Pipes" campaign. Houston Water employees will be on hand to provide interviews in English and Spanish. Attendees are required to wear closed-toe shoes around the facility.

WHAT: 69th Street Wastewater Treatment Plant Media Tour

WHEN: Wednesday, December 14, 2022, at 1:00pm

 WHERE: 2525 S Sgt. Macario Garcia Dr, Houston, TX 77020


ADDITIONAL INFORMATION: Media is asked to RSVP to Erin Jones at [email protected] or 713.853.6073. Media will be required to check-in with Erin Jones prior to the start of the tour.

The community can visit ProtectOurPipes.org for helpful tips to help prevent sewer overflows.
ABOUT HOUSTON PUBLIC WORKS
Houston Public Works (www.HoustonPublicWorks.org) is the largest and most diverse public works organization in the country, responsible for creating a strong foundation for Houston to thrive. Houston Public Works is responsible for streets and drainage, production and distribution of water, collection, and treatment of wastewater, and permitting and regulation of public and private construction covering a 671-square mile service area. Houston Public Works is accredited by the American Public Works Association.
Facebook, Twitter & Instagram: @HouPublicWorks