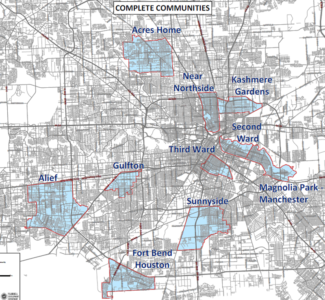 Mayor Sylvester Turner recently announced the expansion of his Complete Communities initiative to five more neighborhoods.
Alief, Fort Bend Houston, Kashmere Gardens, Magnolia Park-Manchester, and Sunnyside are the new communities, joining a collaborative neighborhood improvement program that started with Acres Home, Gulfton, Near Northside, Second Ward and Third Ward.
Mayor Turner made the announcement at a community celebration at Eastwood Park, 5000 Harrisburg Blvd. in Second Ward, to showcase examples of the initiative's progress.
Worn out tennis courts at the park were converted to soccer practice spaces thanks to a $200,000 public-private partnership among the city, the U.S. Soccer Foundation and Target stores. New skate park ramps debuted at the park, thanks to the Friends of Eastwood Park non-profit organization.
"Although they have been underserved for decades, these 10 neighborhoods represent some of the best of Houston—they're diverse, hard-working, and proud," Mayor Turner said. "Complete Communities will ensure that all ships rise with the tide, so that all of our communities are part of the fabric that makes Houston one complete city."
Complete Communities, which the mayor started two years ago, uses government, non-profit and business funds and other resources to strengthen neighborhoods across the city. Donors have already given $11 million to the mayor's Complete Communities Improvement Fund and the initiative has also attracted millions of dollars in private investments.
The 10 neighborhoods  – half of them outside Loop 610 — struggle with access to quality amenities and services, such as full-service supermarkets, affordable urgent care centers and high-quality early learning and after-school programs. Each has significant tracts of undeveloped land and at least two Opportunity Zones, designated by the federal government, in which investors can qualify for tax breaks.
Residents of each Complete Communities neighborhood determine the top priority neighborhood improvements through a series of public meetings and workshops.
About today's celebration:
*  The Houston Dynamo is a contributing partner for Team Up, a collaboration among Bloomberg Associates, My Brother's Keeper Houston and the Houston Health Foundation using the power of sports to help youth to stay motivated in school and pursue college and careers. The program started in Fifth Ward and expanded to the Complete Communities neighborhoods of Gulfton and Near Northside. Other Team Up contributing partners present at Eastwood Park were the Houston Dynamo Dash, the Chevron Houston Marathon and the Sugar Land Skeeters.
* Kid-friendly games in the skate park were hosted by the Friends of Eastwood Park, a community group launched after the Complete Communities planning process to support the Parks and Community Amenities projects and programs in the Second Ward Action Plan.
* Thomas Fields, an entrepreneur who invented and manufactures a basketball return machine at TXRX in the East End, was present at the park. Second Ward residents identified "support small businesses and entrepreneurs, including exploring business incubators" as an economy/jobs project they wanted to see in their neighborhood. Thomas' growing business is an example of the progress .