A FACEBOOK LIVE TOWN HALL
WITH HARRIS COUNTY ELECTIONS ADMINISTRATOR
October 28, 12 p.m.
Join Department of Neighborhoods Director TaKasha Francis for a nonpartisan Facebook Live Town Hall with Harris County Elections Administrator Clifford Tatum on Friday, October 28 at noon.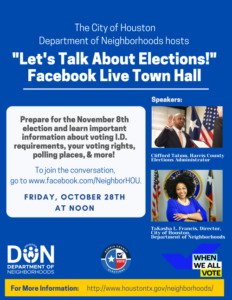 The talk will focus information of importance to voters, including voter I.D. requirements, voter rights, and how to be a prepared voter. The talk will also address live questions about elections from attendees.
To join the conversation, search "NeighborHOU" on Facebook or go to www.facebook.com/NeighborHOU on Friday, October 28 at noon. For more information, call 832-393-0832.
Contact:
Evangelina Vigil
Public Information Officer
Office: 832.393.0832
Mobile: 281.904.3015