HOUSTON – The City of Houston, along with four other major cities, has been named the winner of its category in the 2023 Wyland National Mayor's Challenge for Water Conservation for two years in a row. Houston was named a "Water-Wise City" by the Wyland Foundation for populations above 600,000.
Houston Mayor Sylvester Turner accepted the Wyland Foundation's challenge back in April, encouraging community pledges to save water. Since the start of this year's challenge, people in the Houston region pledged to save 188 million gallons of water. The Houston region also committed to additional methods of conservation:
Stop using 453,952 single-use plastic water bottles
Prevent 12,044 pounds of hazardous waste from entering watersheds
Keep 5,220,882 pounds of waste out of landfills
Save 703,464,370 pounds of carbon dioxide
Save 13 million kilowatt hours of electricity
Save $2,385,351 in consumer costs
"After last summer's drought, conserving water is crucial for the Houston region," said Mayor Sylvester Turner. "The City of Houston is proud of winning the challenge in back-to-back years, the effort of our community to do its part, and the accomplishment of communities in over 40 states to save 1.8 billion gallons of water in 2023. We can all take small steps today to build a more resilient future."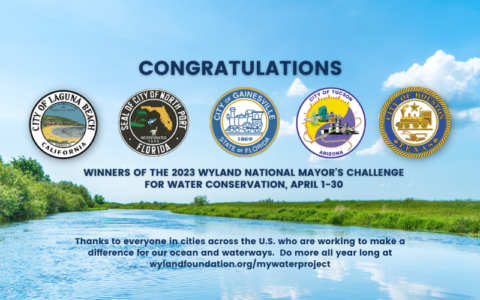 Those who pledged to save water from Houston will be entered to win thousands of dollars in prizes focused on water conservation, courtesy of the Wyland Foundation, with support from the U.S. EPA, National League of Cities, The Toro Company, and Zenni Remakes. Prizes include $3,000 towards their utility payments, water-saving fixtures, and other rewards.
One school in the Houston region will receive 100 pairs of Zenni Remakes™ eyeglasses, specially designed to reduce eye damage caused by prolonged exposure to blue light. Each pair is crafted from recycled plastics equivalent to three discarded single-use plastic water bottles.
The Houston community can find more information about water conservation efforts, including ways to save water and save money daily here.