HOUSTON – Houston Public Works, along with Houston City Council District C and Houston Parks Board, celebrated the completion of the Missouri Kansas Texas (MKT) Trail Spur Connector during a ribbon cutting event Tuesday, December 20, 2022, in the Heights. The connector closes a gap between the MKT and White Oak Bayou Greenway trails. The $1.2 million project features 850 feet of a 10-foot-wide concrete hike and bike trail. Improvements include stormwater upgrades, a retaining wall, and safety railings.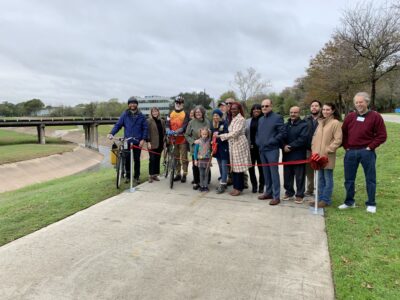 "The completion of the MKT Spur Connector represents a safer and more equitable transportation network for all users," said Houston Public Works Director Carol Haddock. "The MKT Spur connector is the final missing piece to link users to 17 miles of hike-and-bike trails along the greenway, creating a more pleasant experience."
"Today we're celebrating another milestone for safety and accessibility now that two of District C's most popular trails are connected," Council Member Abbie Kamin said. "Residents can be more comfortable walking, running, and biking, enjoying our trails and green-spaces without being forced on busy streets."
Work on the MKT Spur Connector project began in 2021 by Teamwork Construction Services, Inc. The Spur branches off the MKT Trail northwest of the MKT Bridge over White Oak Bayou, connecting to White Oak Bayou Greenway underneath Studemont Street.
"We are thrilled that construction is now complete on this critical trail connector between MKT Trail and White Oak Bayou Greenway," said Beth White, President and CEO of Houston Parks Board. "This connection is an essential piece in creating a safe, continuous path along one of the most used Bayou Greenways in Houston. Thank you to Houston Public Works and City of Houston for helping bring this vital project to life."
Special thanks to multiple agencies and partners on this project include (in no particular order):
Houston Mayor Sylvester Turner
Houston Public Works
Houston Planning and Development Department
Houston Parks and Recreation Department
Houston Parks Board, including President and CEO Beth White and staff
Houston City Council Member Abbie Kamin, District C
Houston City Council Member Karla Cisneros, District H
White Oak Bayou Association
Bicycle Advisory Committee
Houston BCycle
Bike Houston
Greater Northside Management District
Great Heights Super Neighborhood
Houston Heights Association
Congresswoman Sheila Jackson Lee