Houston police have arrested a suspect charged and wanted in the wanted in the fatal shooting of a juvenile female and the wounding of one adult male and one adult female that occurred at 10819 Sharpview Drive about 2:40 p.m. on October 26.
The suspect, Kenny Charles Garrett (b/m, 24), is charged with murder, two counts of aggravated assault with a deadly weapon and deadly conduct in the 263rd State District Court. An updated booking photo of Garrett is attached to this news release.
The deceased juvenile female is identified as Mareja Pratt, 16. The other female victim, Dekambrie Pratt, 20, and the male, Anthony Thornabar, 32, suffered gunshot wounds and were transported to area hospitals.
HPD Homicide Division Sergeants B. Smith and T. Hollohazy reported:
Officers responded to a report of a shooting at the above address and found the three victims suffering from gunshot wounds. Witnesses stated a black male suspect was observed exiting a red Chrysler 200 and shooting multiple times at the victims. The male suspect, along with three females, then got into the vehicle and fled the scene in an unknown direction.
Responding Houston Fire Department paramedics pronounced the juvenile deceased at the scene. Ms. Dekambrie Pratt and Mr. Thornabar both suffered non-life-threatening gunshot wounds.
Further investigation identified Garrett as the suspect in this case and he was subsequently charged. On November 9, Garrett was arrested without incident.
Anyone with additional information in this case is urged to contact the HPD Homicide Division at 713-308-3600.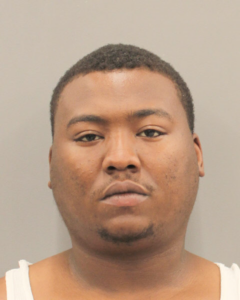 Kenny Charles Garrett
2nd Update: JKS/JFC 11-16-20
Update JFC/ VHS 11-2-20
JKS/KJS 10-27-20
Inc. #142294720