Charges have been filed against a suspect arrested in the fatal shooting of a woman at 874 Yorkchester Drive about 7:55 a.m. on February 14.
The suspect, Owen Leonardo Vilanova-Ardon, 17, is charged with capital murder in the 337th State District Court.  A booking photo of Vilanova-Ardon is attached to this news release.
He is accused for his role in the killing of Judy Walters, 65.
HPD Homicide Division Detectives A. Vinogradov and D. Crowder reported:
HPD patrol officers responded to a shooting call in the parking lot of an apartment complex at the above address. Officers found Ms. Walters suffering from a gunshot wound. Paramedics pronounced her deceased at the scene.
Investigators learned at least two suspects, described only as young males with medium complexions and wearing black bandanas, shot Walters and pulled her out of her vehicle.  The suspects stole the vehicle, a white Mitsubishi Eclipse Cross, and struck the woman with it as they fled the scene eastbound on St. Mary's Lane.
Further investigation led to the identity of Vilanova-Ardon as one of the suspects.  On Tuesday (March 14), he was taken into custody by detectives and subsequently charged in the shooting.
Anyone with information on the identity or whereabouts of the wanted suspect is urged to contact the HPD Homicide Division at 713-308-3600 or speak anonymously with Crime Stoppers at 713-222-TIPS.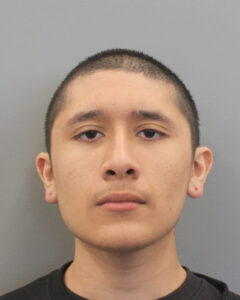 Owen Leonardo Vilanova-Ardon
Update: JFC/SOA    3-15-23
SOA/JFC     2-14-23
Inc. #022179223