A suspect charged and wanted in the fatal shooting of a man at 794 Prosper about 2:25 a.m. on September 9 is now in custody.
The suspect, Joseph Deshun Dunn (b/m, 33), was arrested on Tuesday (Dec. 4) after being charged with murder in the 180th State District Court for his role in the killing of Antonio Hogan, 37.
A booking photo of Dunn is attached to this news release.
HPD Homicide Division  Sergeant M. Holbrook and Detectives S. Jimenez, T. Jackson and J. Roscoe reported:
Mr. Hogan and a female friend were in front of Hogan's residence at the above address when a black 4-door sedan with two males inside stopped in front of the house.  The male passenger got out of the car and began arguing with Hogan before pulling out a gun and shooting him.  Both suspects then fled the scene in the sedan, possibly a Chrysler or Cadillac.
The suspects were described only as black males.  The driver was dressed in all black clothing.  The shooter was wearing a white or gray T-shirt.
Further investigation led to the identity of Dunn as the shooter and he was charged with murder on October 2.  Members of the Gulf Coast Violent Offenders Task Force arrested Dunn on Tuesday without incident.  Dunn was found to be in possession of narcotics and he was also charged with felony possession of a controlled substance.
Anyone with information on the other wanted suspect in this case is urged to contact the HPD Homicide Division at 713-308-3600 or Crime Stoppers at 713-222-TIPS.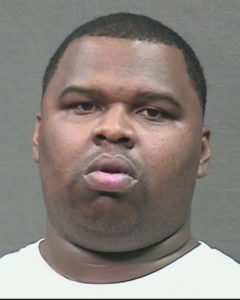 Joseph Deshun Dunn
Update JFC/JKS  12-5-18
JKS/KJS  9-10-18
Inc. #114661518