Charges have been filed against a suspect arrested in the fatal shooting of a man at 4971 Martin Luther King Boulevard about 5:15 p.m. on Saturday (Dec. 10).
The suspect, Jabari Antwan Sample, 21, is charged with murder in the 208th State District Court.  A booking photo of Sample is attached to this news release.
He is accused in the killing of Jordan Gaffney, 20.
HPD Homicide Division Detectives H. Martinez and S. Chettry reported: Officers were dispatched to a shooting call at the apartment complex at the above address and found Mr. Gaffney unresponsive with apparent gunshot wounds.  Paramedics pronounced Gaffney deceased. Detectives learned there was a physical altercation in the stairwell of the apartment complex, which led to the shooting. Further investigation identified Sample as the suspect in this case.  He was taken into custody on Tuesday (Dec. 27) and subsequently charged for his role in the shooting.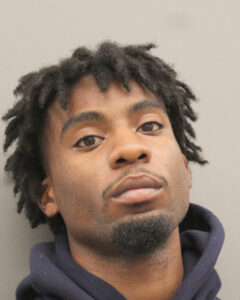 Jabari Antwan Sample

Update: JFC/SOA     12-28-22
JFC/JKS    12-12-22 Inc #166440222