Charges have been filed against a suspect arrested in a fatal hit-and-run crash at 8000 South Gessner Road about 4:45 a.m. on Sunday (Nov. 20).
The suspect, Angel David Espinoza Martinez, 19, is charged with failure to stop and render aid in the 351st State District Court.  A booking photo of Martinez, with injuries he sustained in the crash, is attached to this news release.
The identity of the male victim, 17, is pending verification by the Harris County Institute of Forensic Sciences.
HPD Vehicular Crimes Division Sergeant D. Rodriguez and Officer J. Rangel reported: The victim was a passenger in a red Nissan Altima traveling southbound at the above address when the driver failed to stay in a singe lane and struck a power pole.  The unknown driver of the Nissan fled the scene on foot.  Paramedics arrived and pronounced the victim deceased.
Further investigation led to the identity of the wanted driver as Martinez.  It was learned he was at an area hospital with injuries sustained in the crash.  Martinez was treated at the hospital, transported to jail and subsequently charged in the crash.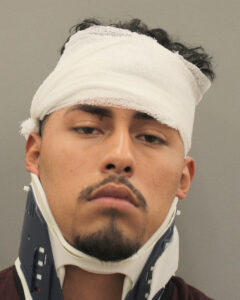 Angel David Espinoza Martinez
Update JFC/JKS    11-23-22
JFC/SOA    11-21-22 Inc #156664622-M