Houston police homicide investigators have released a composite sketch of a suspect wanted for the fatal shooting of two men that occurred at 1400 Collingsworth about 2:35 a.m. on March 9.
The suspect is described only as a Hispanic male in his late 30s to early 40s, about 6 feet tall, with crossed eyes. He was wearing a Sherwin Williams T-shirt. He was accompanied by a male with eyes that are described as "milky."
A composite sketch of the suspect is attached to this news release.
The identity of the deceased victims is pending verification by the Harris County Institute of Forensic Sciences.
HPD Homicide Division Detectives R. Ridel and T. Colbert reported:
Witnesses reported hearing multiple gunshots from the parking lot of a bar at the above address. When they went to investigate, both victims were found with gunshot wounds. One male was pronounced deceased at the scene and the other was transported by paramedics to Lyndon B. Johnson General Hospital where he was later pronounced dead.
Anyone with information in this case is urged to contact the HPD Homicide Division at 713-308-3600 or Crime Stoppers at 713-222-TIPS.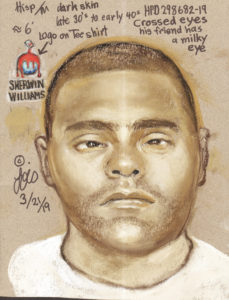 Update: JKS/JFC 3-25-19
VHS/JFC 3-11-19
Inc. #029868219