Houston Mayor Sylvester Turner and the Office of Emergency Management (OEM) announced a promotional campaign for AlertHouston, the City's official emergency notification system.
AlertHouston is an important component for the City's communications to citizens during severe weather or emergencies. Just this past weekend, residents were alerted of severe thunderstorm and tornado warnings through the system. Register at www.alerthouston.org.
To promote citizen registration, billboards in English and Spanish have been placed around the City, radio and television commercials will air in English and Spanish, and print and digital advertisements will be produced.
"We all know how important it is to communicate during times of emergencies, especially natural disasters. During Hurricane Harvey, the Mayor's Office of Emergency Management was the primary source of information for residents around the City of Houston who needed to know about preparing for a hurricane, massive flooding, and putting together an emergency kit before the storm hit," Mayor Turner said. "That is why I have partnered with the Office of Emergency Management, to launch a citywide campaign to promote registration for AlertHouston, the City's official emergency notification system."
Most alerts are geo-targeted, which is crucial for a city as large and expansive as Houston. Residents can register at http://bit.ly/2N7ltYp to receive emergency alerts through email, text message, voice call or mobile app push notifications via the Everbridge system (available in the iTunes or Google Play stores).
OEM provides timely information during emergencies through AlertHouston from six different categories:
Emergency Incidents (such as hazmat situations or law enforcement activity)

Severe Weather information

Major Traffic & Transit Interruptions

Missing People (AMBER Alerts & Silver Alerts)

Information regarding Special Events & Planned Drills

Recovery information for people impacted by a disaster (such as the flooding from Hurricane Harvey or Tax Day)
"During any emergency, our goal is to be a trusted source of life-saving information for those who live in, work in or visit the City of Houston," said George Buenik, Director of the Mayor's Office of Public Safety and Homeland Security. "As the Mayor mentioned, we're excited about this campaign and the opportunity to spread the word on this important free service."
AlertHouston has grown from an email service to a one that delivers timely, geo-targeted notifications by email, text message, voice call and/or mobile app push notification. More than 133,000 subscribers are now registered in the system, and thanks to a new grant obtained by the Office of Emergency Management, OEM can coordinate with regional partners to fund the system's first-ever promotional campaign.
"We are proud of being a growing community, and we will continue to grow for years to come. Our welfare should always be our number one priority," Mayor Turner said. "As much as we want to control our surroundings, emergencies caused by nature or by man can have a powerful impact on our community. We ask that our residents register today, before the next disaster, to remain prepared at all times."
Supported by a mitigation grant from the Texas Department of Emergency Management, Mayor Turner and the Houston OEM partnered with Ad Impressions, b.ID Creative, and Clear Channel Outdoor to produce the promotional materials.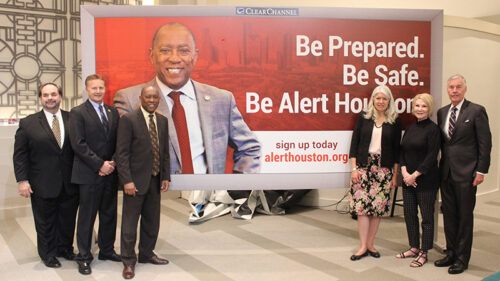 About the OEM
The City of Houston Office of Emergency Management (OEM) is the chief coordinating agency for disaster response in the nation's fourth-largest City. OEM provides emergency response coordination and communication assistance to City agencies and serves as liaison to regional, state and federal agencies during times of emergency. In addition, OEM engages with the local community to promote emergency preparedness through a variety of initiatives. More information can be found at houstonoem.org.