Stations 17, 24, and 66 received brand-new 2022 Ford F-250 Crew Cab Decontamination (decon) units, replacing aging units.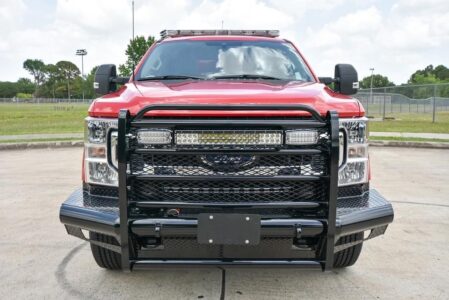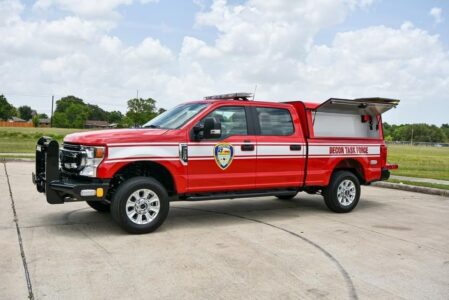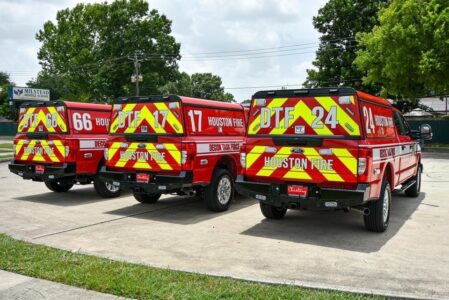 HOUSTON - This acquisition originates from Fire Chief Sam Peña's, health and safety initiative. "The Health and Safety of Houston Firefighters is of utmost importance and has been a strategic focus of our administration for the last five years. Significant investments have been made to provide our personnel with training safety, and cancer prevention equipment. With the purchase of these apparatus, firefighters will have the tools to perform mass decontamination and reduce cancer risk on emergency scenes more efficiently" said Fire Chief Sam Peña.
The units will be utilized to transport the existing Decon Task Force trailers, which house all the necessary equipment for an incident involving, mass decontamination or technical decontamination. These units have the same capabilities as current HFD Emergency Support Units (ESU's). The units are outfitted with an A.R.E. Camper Top with side compartments, to aid in storing cargo and ensuring a weather-resistant transport. The units also feature an Extenda-Bed EXT-1500. These heavy-duty slides are rated at 1500 lbs. and allows for 100% extension. The slides grant personnel the ability to safely access equipment, while maintaining full access of the unit.
Other features of the units include:
• 3/16" Aluminum tray with 4" lip, 46" wide and full length of the bed. The tray shall be striped for added safety. The stripe shall be 3M Red Diamond Grade. The tray shall be inlaid with black turtle tile, total one (1) case. Designed to hold Warn Portable Winch.
• Winch assembly rated at 9500 lbs. A warn 9.5 CTI portable winch installed with 24' cable kit, multi mount winch kit, 9.5CTI, heavy duty wire connectors
• Four (4) Ziamatic Air-Pak brackets for SCBA's
• Two (2) SL-44451 LED Fire Vulcan flashlights
• Plus, so much more!
A special thanks to the Honorable Mayor Sylvester Turner for his continued support of the HFD fleet replacement program.