Charges have been filed against a suspect arrested in the death of a woman at 3618 Laura Koppe Road that occurred about 3 p.m. on November 24.
The suspect, Sean Dacko Preston (b/m, 47), is charged with murder in the 177th State District Court.  He is accused in the death of his ex-wife, Keysha Preston, 41.
A booking photo of Sean Preston is attached to this news release.
HPD Homicide Division Sergeant M. Glover and Detective A. Graf II reported:
On November 29, family members reported Ms. Preston as missing since November 24.  The circumstances under which she went missing were suspicious and the HPD Homicide Division initiated an investigation into the incident.
Further investigation determined Ms. Preston was killed by her ex-husband, Sean Preston, at a motel at the above address on the day she was last seen (November 24).  Her body has not been recovered at this time.
On Wednesday (December 15), Sean Preston was arrested, with assistance from the HPD Northeast Patrol Division Crime Suppression Team.  The Harris County District Attorney's Office was consulted and Preston was subsequently charged for his role in the incident.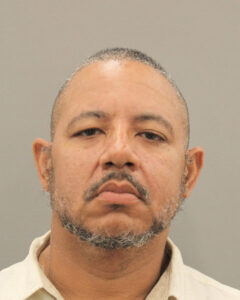 Sean Dacko Preston
VHS/JFC  12-17-21
Inc. #159630421