A suspect wanted and charged in the shooting of a juvenile male at 7402 Calhoun Road about 12:40 p.m. on June 5 has been arrested.
The suspect, Ketrell Beasley (b/m, 18), is charged with deadly conduct – discharging a firearm in the 351st State District Court.  He is accused for his role in the shooting of an 11-year-old boy, taken to an area hospital in stable condition.
A booking photo of Beasley is attached to this news release.
HPD Major Assaults & Family Violence Division Officer M. Huffman reported:
Officers responded to a shooting call at an apartment complex at the above address and learned the victim was in his apartment when a bullet went through the wall and grazed him in the upper back.  The victim's older brother, 15, also in the apartment, was not injured.
Further investigation identified the suspect as Beasley.  He was arrested on Wednesday (June 12) without incident.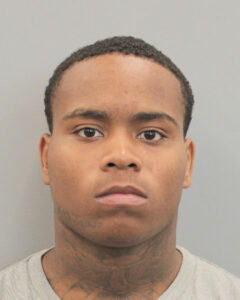 Ketrell Beasley
JFC/VHS   6-13-19
Inc #071098919