Houston police have arrested a suspect charged in the shooting of a man that occurred at 3908 Woolworth about 12:30 p.m. on Saturday (Feb. 23).
The suspect, Latoya Harvin (b/f, 27), is charged with aggravated assault of a family member and endangering a child in the 183rd State District Court. A photo of Harvin is attached to this news release.
Harvin is accused of shooting Adrian Sipsey, 38, who was transported to Ben Taub General Hospital.
HPD Major Assaults & Family Violence Division Officers D. Morrison and J. Hasley reported:
Mr. Sipsey and Harvin, who are dating, got into an argument at their apartment at the above address. During the argument, Harvin shot Sipsey as he was holding a 4-year-old child. Harvin was arrested at the scene. Paramedics transported Sipsey to the hospital with a gunshot wound to the torso. The child was not injured.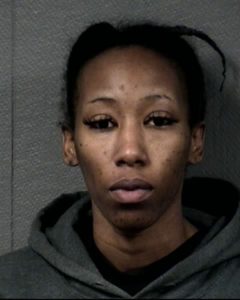 Latoya Harvin
JKS/JFC 2-25-19
Inc. #023704119