Charges have been filed against a suspect arrested in the fatal stabbing of a man at 1517 Gentry Street about 11:10 p.m. on Saturday (April 15).
The suspect, Virginia Adame (H/f, 48), is charged with murder and tampering with evidence in the 208th State District Court for her role in the killing of Moses Lopez, 44, of the above address.
A photo of suspect Adame is attached to this news release.
HPD Homicide Division Officers M. Cass and T. Jackson reported:
Officers responded to a stabbing call at the above address and learned paramedics had pronounced Mr. Lopez deceased at the scene.  During the investigation, Adams, the victim's girlfriend, was determined to be the suspect who stabbed Lopez.  She was taken into custody without incident.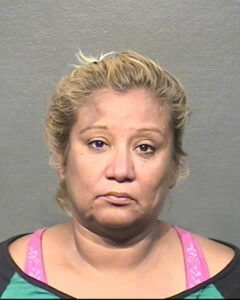 Virginia Adame
JFC/JKS   4-17-17
Incident #047277917