Houston police have arrested a suspect charged in the fatal shooting of a woman that occurred at 2414 Moreau about 2:20 a.m. on Saturday (Feb. 10).
The suspect, Daniel I. Martinez (H/m, 35), is charged with murder in the 182nd State District Court.  A booking photo of Martinez is attached to this news release.
He is accused in the killing of his common-law wife, Claudia Arriaga, 33.
HPD Homicide Division Sergeants K. Daignault, J. Dominguez and Detectives C. Hernandez and T. Jackson reported:
Officers responded to a shooting call at the above address and found Martinez had shot his wife (Ms. Arriaga) following a verbal argument.  During the course of the argument, Martinez began to assault Arriaga and then shot her in front of her three children.   She was pronounced dead at the scene.  Martinez was arrested at the scene.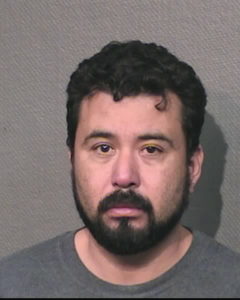 Daniel I. Martinez
JKS/JFC   2-12-18
Inc. #017521818