Charges have been filed against a suspect arrested in a fatal crash at 900 West T.C. Jester Boulevard about 7:20 p.m. on Sunday (Oct. 8).
The suspect, Dale Rogers (b/m, 44), is charged with driving while intoxicated in Harris County Criminal Court #15.  A photo of Rogers is attached to this news release.
The identity of the male victim is pending verification by the Harris County Institute of Forensic Sciences.
HPD Vehicular Crimes Division Sergeant M. Warhol and Officer S. Le reported:
Rogers was driving a maroon Nissan Frontier northbound at the above address when he struck a pedestrian attempting to cross the street.  The pedestrian failed to yield the right of way and was not walking in a crosswalk.  Paramedics pronounced him dead at the scene.  Rogers was determined to be intoxicated and was taken into custody.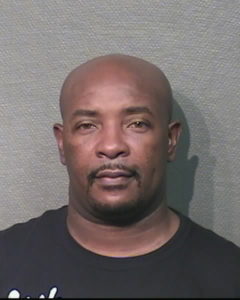 Dale Rogers
JFC/JKS   10-9-17
Inc #127612517-K