Charges have been filed against a suspect arrested in a fatal crash at 7400 North Shepherd Drive about 10:55 p.m. on Monday (Aug. 24).
The suspect, Rigoberto Fernandez (H/m, 41), is charged with intoxication manslaughter in the 351st State District Court.  A booking photo of Fernandez is attached to this news release.
The identity of the male victim, 55, is pending verification by the Harris County Institute of Forensic Sciences.
HPD Vehicular Crimes Division Sergeant D. Rose and Officer A. Chheav reported:
Fernandez was driving a white Chevrolet Tahoe at a high rate of speed northbound at the above address when he struck a curb near West Little York Road and lost control of his vehicle.  The truck then spun and struck a male sitting on a bucket in a protected median near the crosswalk.
Paramedics were called and pronounced the victim deceased at the scene.  Fernandez was determined to be intoxicated and was subsequently charged.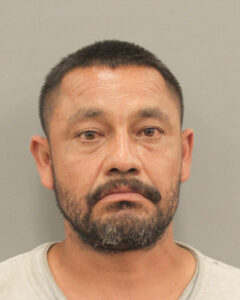 Rigoberto Fernandez
JFC/JKS    8-26-20
Inc #112192320-R