Charges have been filed against a suspect arrested in a fatal crash at 7100 South Loop East (South Interstate Highway 610 East) about 7:30 p.m. on Thursday (June 17).
The suspect, Aaron Stephon O'Quinn (b/m, 25), is charged with manslaughter in the 228th State District Court.  A booking photo of O'Quinn (with a bruise sustained in the crash) is attached to this news release.
The identity of the male victim, 25, is pending verification by the Harris County Institute of Forensic Sciences.
HPD Vehicular Crimes Division Sergeant S. Jewell and Officer D. Jones reported:
Witnesses stated that O'Quinn was driving a black Mercedes CLA at a high rate of speed eastbound on the freeway at the above address when he changed lanes, lost control and then struck a gray GMC Sierra.  The GMC left the roadway and struck a concrete bridge pillar.  The driver was ejected from the truck and was pronounced deceased at the scene.  The Mercedes then struck a concrete retaining wall.
During the crash, a toolbox in the back of the GMC truck became dislodged and went airborne, striking a gray Jeep Cherokee.  No one in the Jeep was injured.
An HPD DWI officer evaluated O'Quinn, who did not exhibit signs of intoxication.  Paramedics transported O'Quinn to the hospital for treatment.  He is being charged for his role in the crash and, once he is released from the hospital, he will be taken to jail.
The investigation is continuing.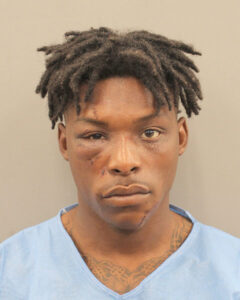 Aaron Stephon O'Quinn
JFC/KJS  6-18-21
Inc #081625021-B