Petco Foundation Donates $125,000 to Benefit BARC Animals
Houston, TX – Yesterday, Petco's senior leadership team, including CEO Brad Weston, toured BARC's campus and participated in completing a play yard enrichment project sponsored by the Petco Foundation. The group helped break ground and begin construction on the project.
The Petco group also presented $125,000 from the Petco Foundation to benefit BARC Animals. The donation was a portion of a larger $2.5 Million investment by the Petco Foundation distributed to animal welfare organizations across the Houston area.
"We are honored to be a recipient of the Petco Foundation's generous donation," said Houston Mayor Sylvester Turner. "We are grateful for the overwhelming support we have received for the care of dogs and cats during hurricane recovery efforts and hope that the momentum in animal welfare continues. I challenge every Houstonian to give shelter pets a second chance at the life they deserve. Volunteer, foster, adopt and donate. Together, we can make a difference in the lives of shelter pets across our community."
BARC Animal Shelter takes in over 26,000 dogs and cats every year. The animal shelter's annual animal save rates continue to rise year over year through adoptions, rescue, foster and trap-neuter-return. Support from across the community, the state and even the country will help BARC reach a new lifesaving milestone.
Houston area shelters are poised and ready to become a national standard in lifesaving initiatives. Petco Foundation's investment in Houston's animal shelters provides a new opportunity to create new programs and improve current ones that will help Houston work toward that goal.
Visit www.houstonbarc.com or www.Facebook.com/BARCHouston for more information.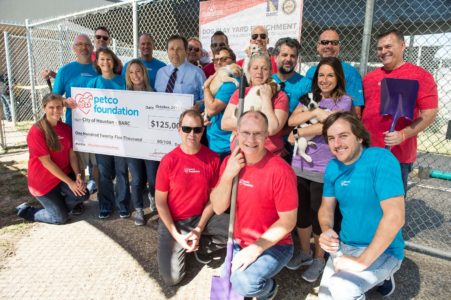 *Photo credit: Petco Foundation