Houston Public Works has launched a website to assist customers and provide more information ahead of the water rates increase. New water and wastewater rates start September 1. The new rates are changing to pay for legal requirements, such as the Consent Decree, and the increased cost of service for each type of customer, like single-family or industrial, while ensuring everyone pays their fair share.
The Houston Water Rates website features a tool where customers can calculate how much their utility bill will be with the new rates. The community can find tips on how to lower their utility bill and resources for those who need assistance paying their bill. Houston Public Works will continue to share ways to fix leaks and save money on social media @HouPublicWorks.
Customers with questions about their utility bills are can contact Customer Account Services at 713.371.1400.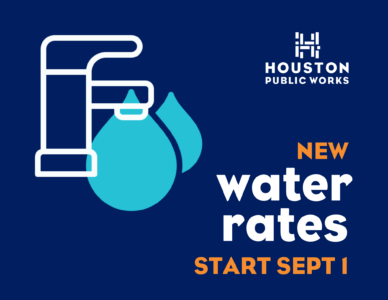 ABOUT HOUSTON PUBLIC WORKS
Houston Public Works (www.HoustonPublicWorks.org) is the largest and most diverse public works organization in the country. Houston Public Works is responsible for streets and drainage, production and distribution of water, collection and treatment of wastewater, and permitting and regulation of public and private construction covering a 671-square mile service area. Houston Public Works is accredited by the American Public Works Association.
Facebook, Twitter & Instagram: @HouPublicWorks