Voice and text messages in English and Spanish a convenient service for residents without easy access to internet sources
HOUSTON –  The Department of Neighborhoods (DON) invites residents to subscribe to Neighborhood Updates to receive brief voice or text messages in Spanish or English about essential services and resources. The updates inform residents about City, state, federal and nonprofit agency resources, including pandemic recovery services, assistance for people affected by weather disasters, and programs that benefit financially disadvantaged communities. The messages also include seasonal advisories focused on extreme weather preparation and invitations for participation in City government and civic affairs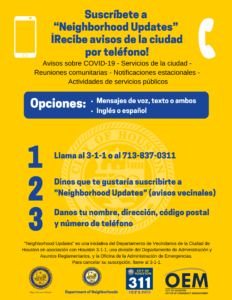 The messaging service is for everyone, especially for seniors and others who may not have easy access to online information, persons with disabilities who need information in audio or written format, and residents who prefer notices in Spanish.
Subscribers receive two to four notices monthly about services such as healthcare, housing, help for seniors, legal assistance, estate planning, domestic violence counseling, and citizenship forums. The updates also inform residents about COVID-19 prevention and recovery resources, including testing, vaccination, and assistance programs.
"Whether it is information about the pandemic, hurricane season, or another major issue, the City's priority is to keep residents updated on recovery resources. The Neighborhood Updates initiative complements that effort by delivering important information directly to residents," said Mayor Sylvester Turner. "This service provides an easy way for residents to receive announcements about existing programs and new initiatives responsive to basic and urgent community needs. I invite Houstonians to subscribe to Neighborhood Updates and let others know about this service. Help us connect to people in our communities so we may better serve you."
"We're excited to continue our Neighborhood Updates initiative in partnership with the Office of Emergency Management and 3-1-1," said TaKasha Francis, DON director. "It allows us to communicate directly with residents–not only to inform them of essential programs and services such as assistance for low-income and at-risk populations, but also to invite public participation in City town halls, surveys, and leadership training designed to give residents a voice, promote civic action, and empower neighborhoods."
Subscribe to Neighborhood Updates!
The public is invited to subscribe to Neighborhood Updates by calling 3-1-1. Subscribers have the option of receiving voice messages or texts in English or Spanish.
* * * *
About Neighborhood Updates
Introduced in 2019, Neighborhood Updates is a service of the Department of Neighborhoods, administered in partnership with the Office of Emergency Management and Houston 3-1-1, a division the Administration and Regulatory Affairs Department. The aim of the initiative is to build stronger connections to people and communities by connecting them to programs and services offered by City departments, state and federal government agencies, and nonprofit organizations.
Contact:
Evangelina Vigil
Public Information Officer
Office: 832.393.0832
Mobile: 281.904.3015