Mayor Sylvester Turner and Haley Carter, chair of the Mayor's Commission Against Gun Violence, today announced details of the commission's second report focusing on legislative priorities to reduce gun violence, protect students and promote safe and responsible gun ownership.
The recommendations for the 2019 Legislative Session are divided into sections: those requiring legislation, budget amendments, and state administrative action.
Commission's Legislative Recommendations
Legislation that mandates the establishment of Active Shooter Building Codes: This would keep our children and teachers safe by requiring, for example, doors that lock from the inside; schools should have a fully functional public address/PA system, along with active shooter medical kits available and security cameras.
Universal Background Checks for all gun purchases to close the gun show loophole which currently allows purchases, including violent offender to avoid background check by purchasing guns.
Ban on 3D Printed Firearms. 3D printed guns are firearms that can be made anywhere in the world, with inexpensive materials and a 3D printer. They are particularly dangerous and pose a threat because they allow for the acquisition of virtually untraceable firearms, which can be manufactured by someone who would not normally qualify for gun ownership. This "ghost market" of gun manufacturing circumvents gun purchasing laws and regulations
Establish a Red Flag Law/Protective Order that would give law enforcement and family members to they need to suspend firearms access during periods of crises.
This is the Commission's second report and additional information and background may be found here.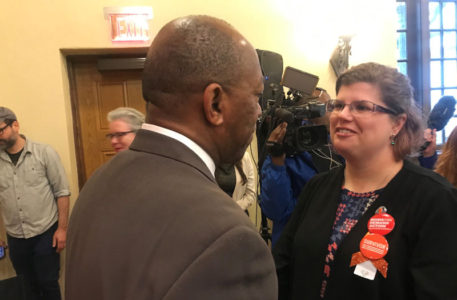 Rhonda Hart, mother of Kimberly Vaughn, who was killed in the horrific Santa Fe High School shooting, was a special guest at Thursday's news conference.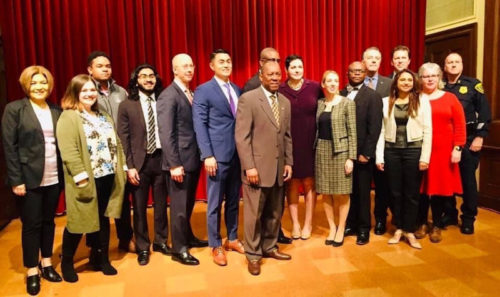 Last year, Mayor Turner appointed 37 individuals representing a cross section of the community to serve on the Commission after joining in March for Our Lives. One of the students' requests was the formation of this Commission.
The mayor gave the Commission a clear charge: to develop and propose specific recommendations to improve gun safety in our schools, neighborhoods and communities through action on the local, state and federal levels.
Last August, the Commission released its first report on a set of recommendations to reduce gun violence and address gun safety issues in our schools.