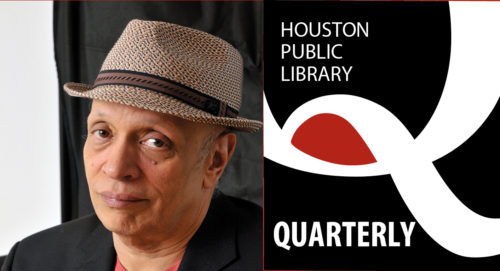 HOUSTON - Award-Winning author Walter Mosley will discuss his latest novel John Woman on Thursday, October 25, 2018 at 7 PM. This HPLQ series will take place inside the Ballroom at Bayou Place located at 500 Texas St., 77002. After the discussion, Mosley will be joined by Houston Chronicle Writer Joy Sewing for a conversation followed by a book sale hosted by Brazos Bookstore and signing.
Visit www.houstonlibrary.org to register and for more information or call 832-393-2028. This event is free and open to the public.
Additional Information
Doors open at 6:15 PM (Entrance is located on the 2nd floor between Revention Music Center and Little Napoli).
Light refreshments will be served.
About the Book
John Woman recounts the transformation of an unassuming boy named Cornelius Jones into John Woman, an unconventional history professor – while the legacy of a hideous crime lurks in the shadows.
At twelve years old, Cornelius, the son of an Italian-America woman and an older black man from Mississippi named Herman, secretly takes over his father's job at a silent film theater in New York's East Village. Five years later, as Herman lives out his last days, he shares his wisdom with his son, explaining that the person who controls the narrative of history controls their own fate. After his father dies and his mother disappears, Cornelius sets about reinventing himself – as Professor John Woman, a man who will spread Herman's teachings into the classrooms of his unorthodox southwestern university and beyond. But there are other individuals who are attempting to influence the narrative of John Woman, and who might know something about the facts of his hidden past.
Engaging with some of the most provocative ideas of recent intellectual history, John Woman is a compulsively readable, deliciously unexpected novel about the way we tell stories, and whether the stories we tell have the power to change the world. It is essential reading in an age defined by fake news and alternative facts.
About the Author
Walter Mosley's award-winning body of work has sold millions of copies all over the world. Though he is perhaps best known for his mysteries featuring the character Ezekiel "Easy" Rawlins, over the course of his long and prolific career, he has also written a handful of penetrating literary novels that wrestle with political and philosophical questions. His latest book is such a novel: the result of nearly 20 years of incubation, it is a dazzling and convention-defying novel of ideas about the sexual and intellectual coming-of-age of an unusual man who goes by the name of Woman.
About the Houston Public Library
The Houston Public Library (HPL) operates 37 neighborhood libraries, three HPL Express Libraries, a Central Library, the Houston Metropolitan Research Center, the Clayton Library Center for Genealogical Research, The African American Library at the Gregory School, and the Parent Resource Library located in the Children's Museum of Houston. With more than eight million visits per year in person and online, HPL is committed to excellent customer service and equitable access to information and programs by providing library customers with free use of a diverse collection of printed materials and electronic resources, Internet, laptop and computer use, and a variety of database and reference resources with live assistance online 24/7.
For further information, visit the Houston Public Library at www.houstonlibrary.org, on Twitter @houstonlibrary, on Facebook – houstonlibrary or call 832-393-1313.