HOUSTON – January is National Mentoring Month, an annual opportunity to highlight mentoring as a critical component in the lives of young people. In recognition, the Houston Health Department is featuring a mentoring success story through its partnership with the Greater Houston Mentoring Alliance.
Kam'rin and Roosevelt
When Kam'rin Christal learned about his elementary school's mentoring program, he immediately knew he wanted to be involved. He was in fourth grade and only about two years removed from the death of his father.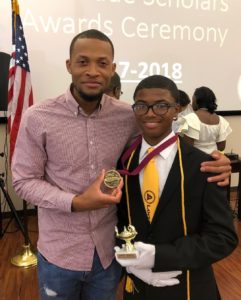 "I started seeing the kids at my school had mentors," Kam'rin said. "I thought 'I want one of those' and then I met Mr. Roosevelt Neely."
It didn't take long for the two to form a powerful connection. Kam'rin, now a high school freshman, views his mentor as an older brother who is always there to offer support. The two have spent countless hours side-by-side over the years and regularly attend church together.
"I probably would not be to the point I am today had I not met such an awesome black role model," Kam'rin said. "Roosevelt encourages me to dream and is always there to help me achieve."
Roosevelt knows young men of color, especially those without fathers, face unique challenges and don't always end up on a positive path.
"All kids deserve a fair shot, no matter where they come from or what they've gone through," Roosevelt said. "Mentors help show young people they can push through adversity and pursue a dream."
Roosevelt is helping guide is mentee along the path to his dream of becoming a doctor. He recently arranged a meeting between Kam'rin and a surgeon for insight on how to achieve that dream.
"I know it sounds cliché, but I really do get as much out of this mentor-mentee relationship as Kam'rin, Roosevelt said. "This experience has changed my life and allowed me to get in touch with my purpose."
The Mentor Effect
Mentoring is vital in young people's lives, helping them make the decisions and connections that lead to opportunity.
According to the National Mentoring Partnership, one-third of our nation's young people are growing up without a mentor to offer real life guidance.
With a mentor, at-risk youth are:
52% less likely than their peers to skip a day of class
55% more likely to become enrolled in college
46% less likely than their peers to start using drugs
78% more likely to volunteer regularly in their communities
90% more likely to become mentors
Greater Houston Mentoring Alliance
Consisting of more than 90 youth mentoring organizations in the area, the Greater Houston Mentoring Alliance aims to raise awareness of local mentoring opportunities.
Collectively, the groups in the alliance strive to achieve joint strategic goals, reduce risk while increasing rewards and leverage resources.
Organizations or individuals interested in learning more about the alliance or mentoring opportunities are encouraged to visit GreaterHoustonMentoringAlliance.com.