BARC, the City of Houston's Animal Shelter and Adoption Center, is excited to announce that it has received a $20,000 grant from Mars Petcare to support its Healthy Pets Healthy Streets (HPHS) program, which provides free spay/neuter services to owned pets of qualifying Houston residents. As a 2022 BETTER CITIES FOR PETS™ Program Grant recipient, BARC will be able to expand outreach for the Healthy Pets, Healthy Streets initiative through translated program materials and marketing to more pet parents in underserved areas, including Houston's Complete Communities.
"I am incredibly proud of the Healthy Pets, Healthy Streets initiative, our strategic, targeted approach to reduce pet overpopulation, promote pet wellness and educate Houstonians on responsible pet ownership in our community," said Mayor Sylvester Turner. "We are grateful to Mars Petcare for providing us with this grant, which will support expanded marketing of Houston's free spay and neuter services to communities impacted by the language barrier and digital divide."
Through HPHS, BARC teams up with several of Houston's top pet advocacy organizations to use a strategic, targeted approach to reduce pet overpopulation, promote pet wellness, and educate Houstonians on what responsible pet ownership looks like. The initiative offers free spay/neuter and wellness services to pet owners in neighborhoods with a large number of stray animals and dog bite complaints in the City. With the help of the Better Cities for Pets grant, BARC will be able to develop new marketing materials in multiple languages. Working directly with trusted community leaders in Houston's Complete Communities, BARC will be able to market HPHS to Houston pet owners who directly benefit from these free services.
Mars Petcare's BETTER CITIES FOR PETS™ program, which was created in partnership with city planning and animal welfare experts and government stakeholders, helps cities become pet-friendly with free online resources, a playbook for cities, city and airport certification programs, grants, best practice research and policy advocacy. The program has awarded nearly half a million dollars in grants to support pet-friendly initiatives since its inception in 2017.
"Through our recent 'Pets for Better Wellbeing' Report we know that more than ninety percent of pet parents feel that their relationship with their pets helped improve their mental and physical wellbeing over the last three years even while navigating the challenges of the pandemic," said Lisa Campbell, Vice President of Corporate Affairs, Mars Petcare. "With dogs and cats playing an increasingly important role in our lives, the BETTER CITIES FOR PETS program aims to help cities recognize and support the benefits pets bring through grants, toolkits and resources."
HPHS is a comprehensive, quality of life improvement for both the pets and the people living in Houston. More healthy and sterilized pets means healthier and safer streets and sidewalks. See if you live inside the City of Houston limits to qualify. Learn more about HPHS: https://www.houstontx.gov/barc/healthy_pets_healthy_streets.html.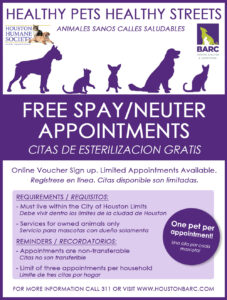 About BARC
BARC, the City of Houston's Animal Shelter and Adoption Center, takes in more than 25,000 animals annually regardless of behavior, breed, or medical condition. BARC works each day to improve Houstonians and their pets' health and safety by pioneering programs such as low-cost and no-cost spay/neuter services, mobile adoptions, transfer/rescue partnerships, and community outreach.
Visit www.houstonbarc.com or www.Facebook.com/BARCHouston for more information.
About Mars Petcare 
Part of Mars, Incorporated, a family-owned business with more than a century of history making diverse products and offering services for people and the pets people love, the 85,000 Associates across 50+ countries in Mars Petcare are dedicated to one purpose: A BETTER WORLD FOR PETS. With 85 years of experience, our portfolio of almost 50 brands serves the health and nutrition needs of the world's pets – including brands PEDIGREE®, WHISKAS®, ROYAL CANIN®, NUTRO™,  GREENIES™, SHEBA®, CESAR®,
 IAMS™ and EUKANUBA™ as well as the Waltham Petcare Science Institute which has advanced research in the nutrition and health of pets for over 50 years. Mars Petcare is also a leading veterinary health provider through an international network of over 2,000 pet hospitals and diagnostic services including BANFIELD™, BLUEPEARL™, VCA™, Linnaeus,
AniCura and Antech. We're also active in innovation and technology for pets, with WISDOM PANEL™ genetic health screening and DNA testing for dogs and cats, the WHISTLE™ GPS dog tracker, and LEAP VENTURE STUDIO accelerator and COMPANION FUND programs that drive innovation and disruption in the pet care industry. We're also dedicated to providing a safe and fun place for dogs to stay and socialize at over 200 Camp Bow Wow® doggy day care and boarding facilities. As a family business and guided by our principles, we are privileged with the flexibility to fight for what we believe in – and we choose to fight for: A BETTER WORLD FOR PETS.