Mayor Sylvester Turner joined the Black Heritage Society and leaders in Houston's faith-based, labor and business organizations Monday to announce the grand marshals for the 41st Annual "Original" MLK, Jr. Birthday Parade.
Esteemed civil rights leader, U.S Representative John Lewis, and George Springer, Astros outfielder and the 2017 World Series MVP, will lead the parade as this year's grand marshals. "The parade grand marshals are a testament to Dr. King's life and legacy. Congressman Lewis considered Dr.King a friend and mentor, while George Springer is a champion and role model on and off the baseball field," Mayor Sylvester Turner said.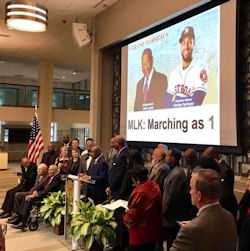 Last year, Mayor Turner announced the City of Houston would provide primary support for the historically-recognized celebration through a collective partnership with the Black Heritage Society, founded by the late Ovide Duncantell, a longtime community advocate.
"Mr. Duncantell was a fearless activist, leader and the reason this parade was founded in 1978 and was licensed by the King family," said Sylvester Brown, operating officer for the Black Heritage Society. "It was the first MLK Day Parade in the nation and we will honor his legacy at this year's parade by naming him the posthumous Grand Marshal." The parade will take place Monday, January 21,from 10 a.m. to 12 p.m. with celebrations beginning in the heart of Downtown Houston at Smith and Lamar.
Organizers announced a "new route and new rules" as they work to collectively ensure this year's event is one of the best yet. Brown urged new and past parade participants to register online as the Thursday, January 10 deadline is fast approaching. There will be no on-site registration available at this year's parade. With a theme of unity and inclusion, the parade will hinge on these famous words of Dr. King: "The time is always right to do what is right."
The Black Heritage Society anticipates this year's celebration will be one of largest in the organization's history, with an anticipated attendance of over 40,000 plus patrons across Houston and the U.S.
"The parade will be a tribute to Houston's strength and diversity and unite people from all cultures and faiths across our communities. This year, we will march as one," Mayor Turner said.
The parade and pre-celebration activities during the federal holiday weekend are officially licensed by the King Center's Intellectual Property Management ("IPM") of Atlanta, GA. The diverse celebration will showcase a variety of marching bands, decorated floats, dance teams, military and ROTC groups, first responders, city and county officials, VIP guest appearances and notable organizations from around the world.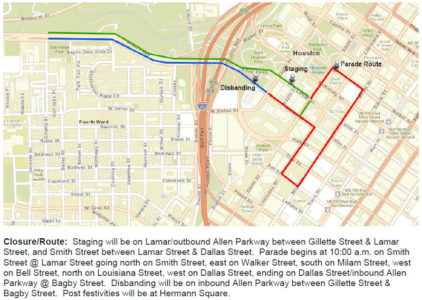 For general information, please call 713.236.1700 or visit the official website at www.blackheritagesociety.org. For information on vendor opportunities, call 832-413-2217.