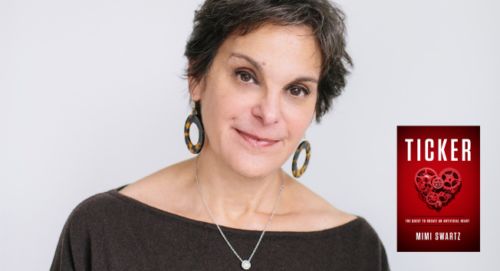 Award-winning author Mimi Swartz will discuss her part investigative journalism, part medical mystery book, Ticker: The Quest to Create an Artificial Heart, on Tuesday, August 7, 2018 at 6:30 PM to 8 PM in the Houston Public Library's Julia Ideson Building Auditorium, 550 McKinney St., 77002. After the discussion, Swartz will be joined by TMC Pulse editor Maggie Galehouse for a conversation. There will also be a book sale and signing after the presentation.
We ask that customers register for this event at www.houstonlibrary.org or call 832-393-2028.This event is free and open to the public.
Author Mimi Swartz will be joined by TMC Pulse editor Maggie Galehouse for a conversation. There will also be a book sale and signing after the presentation.
About the Book
It wasn't supposed to be this hard. If America could send a man to the moon, shouldn't the best surgeons in the world be able to build an artificial heart? Texas Monthly executive editor and two time National Magazine Award winner Mimi Swartz shows just how complex and difficult it can be to replicate one of nature's greatest creations.
Part investigative journalism, part medical mystery, Ticker is a dazzling story of modern innovation. Recounting fifty years of false starts, abysmal failures and miraculous triumphs, this read unfolds the experiences of one of the world's foremost heart surgeons, O.H. "Bud" Frazier.
Rich in supporting players, Swartz introduces us to Bud's brilliant colleagues in his quixotic quest to develop an artificial heart: Billy Cohn, the heart surgeon and inventor who devotes his spare time to the pursuit of magic and music; Daniel Timms, the Brisbane biomedical engineer whose design of a lightweight, pulseless heart offers a new way forward; and, as government money dries up, Houston's furniture king: Mattress Mack.
About the Author
Mimi Swartz was an editor at Texas Monthly for 13 years and won a National Magazine Award in the public interest category in 1996. She has been a staff writer for The New Yorker and Talk, and has written for the New York Times, Vanity Fair, and Esquire. She is the author, with Sherron Watkins, of Power Failure: The Inside Story of the Collapse of Enron. She lives in Houston with her husband and son.
About the Houston Public Library
The Houston Public Library (HPL) operates 37 neighborhood libraries, three HPL Express Libraries, a Central Library, the Houston Metropolitan Research Center, the Clayton Library Center for Genealogical Research, The African American Library at the Gregory School, and the Parent Resource Library located in the Children's Museum of Houston. With more than eight million visits per year in person and online, HPL is committed to excellent customer service and equitable access to information and programs by providing library customers with free use of a diverse collection of printed materials and electronic resources, Internet, laptop and computer use, and a variety of database and reference resources with live assistance online 24/7.
For further information, visit the Houston Public Library at www.houstonlibrary.org, on Twitter @houstonlibrary, on
Facebook – houstonlibrary or call 832-393-1313.