Charges have been filed against a suspect wanted in the fatal shooting of a man at 2647 Winrock Boulevard about 6 a.m. on January 16.
The suspect, Geikel Ruiz Dominguez, 24, is charged with murder in the 248th State District Court.  A  photo of Ruiz Dominguez is attached to this news release.  He is not in custody.
The victim, Yoel Valencia-Martinez, 33, was transported to an area hospital where he was later pronounced deceased.  
HPD Homicide Division Detective E. May and Major Assaults & Family Violence Division Detectives A. Johnson and S. Hall reported:  Mr. Valencia-Martinez left a night club at the above address and walked to his vehicle in the parking lot.  He was confronted by an unknown male suspect and shot multiple times.  The suspect then fled the scene in a white Nissan Altima.  Houston Fire Department paramedics transported Valencia-Martinez to the hospital.  The suspect was described only as a Hispanic male.
Further investigation led to the identity of Ruiz Dominguez as the suspect in this case.  He was subsequently charged and is wanted at this time.  
Anyone with information on the whereabouts of Geikel Ruiz Dominguez is urged to contact the HPD Homicide Division at 713-308-3600 or speak anonymously to Crime Stoppers at 713-222-TIPS.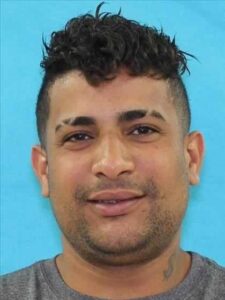 (WANTED)   Geikel Ruiz Dominguez
2nd Update JFC/VHS  1-31-22
Update JFC/JKS  1-19-22 VHS/JFC  1-18-22 Inc. #006812622