A suspect wanted and charged in the fatal shooting of a woman at 6868 Hornwood Drive about 8:45 p.m. on September 2 is now in custody.
The suspect, Joshua Zimmerman, 30 (also known as Vincent Guerino Juliano), is charged with murder in the 183rd State District Court.  A booking photo of Zimmerman, courtesy of the DeSoto County Jail in Mississippi, is attached to this news release. The deceased victim is identified as Keyanna Mercer, 23. HPD Homicide Division Sergeant C. Ponder and Detective K. Stringer reported: HPD patrol officers responded to a report of a deceased woman at a motel at the above address.  Upon arrival, they found Ms. Mercer inside a motel room suffering at least one gunshot wound.  She was pronounced deceased by responding Houston Fire Department paramedics. Further investigation revealed the room was rented to Zimmerman and Mercer.  Witnesses stated they heard screaming coming from the room prior to hearing a gunshot.  Zimmerman was seen leaving the location alone a short time later.  On September 5, Zimmerman was subsequently charged for his role in the shooting.  Investigators released a surveillance photo of Zimmerman and asked for information on his whereabouts.
Last Friday (September 29), officers with the Southaven Police Department in Mississippi arrested Zimmerman on separate felony charges.  Zimmerman was booked into the DeSoto County Jail in Hernando, Mississippi, and will eventually be extradited to Harris County.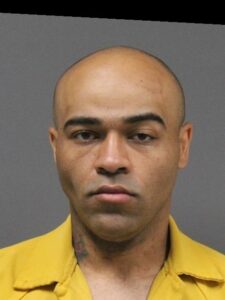 Joshua Zimmerman
(DeSoto County Jail photo)
2nd Update: JFC/JKS   10-2-23
Update: SOA/VHS  9-6-23 JKS/VHS  9-5-23 Inc. #125980023