Charges have been filed against a suspect wanted in the fatal shooting of a man at 12929 Northwest Freeway (U.S. Highway 290) service road about 6:10 pm. on February 21.
The suspect, Isaac Oliver Elmore, Jr, 21, is charged with capital murder in the 174th State District Court.  A photo of Elmore is attached to this news release.  He is not in custody.
A second suspect, Bernard Aaron Robertson, 21, is in custody and charged with capital murder in the 228th State District Court.  A booking photo of Robertson is attached to this news release.
The suspects are accused in the killing of Johnathan Oghenesoro, 42.
HPD Homicide Division Detectives B. Stephens and C. Vaughn reported:
HPD patrol officers responded to a shooting in a parking lot of a motel at the above address and found Mr. Oghenesoro lying on the ground.  Witnesses stated they heard gunshots and saw a  white U-Haul van with Arizona license plates flee the scene, leaving the victim's body behind.  Houston Fire Department paramedics transported Oghenesoro to an area hospital where he was pronounced deceased.
A preliminary investigation and evidence from the scene determined Oghenesoro pulled into the parking lot in his own vehicle with the two male suspects, who were driving the white van.  The two males got into Oghenesoro's car for a short period of time and exited the vehicle while holding pistols.  One suspect pulled a bag from Oghenesoro and threw it into an open window of the van.  The other suspect got into a struggle with Oghenesoro and shot him.  Both suspects got into the van, which struck Oghenesoro as it fled the scene.
Further investigation identified Robertson as one of the suspects in this case.  He was arrested on September 22 by members of the Gulf Coast Violent Offenders Task Force.
Detectives determined the other suspect is identified as Elmore, a native of Georgia.  Charges were filed on him on Sunday (Nov. 27) and a warrant is issued for his arrest.
Anyone with information on the whereabouts of Isaac Elmore, Jr., is urged to contact the HPD Homicide Division at 713-308-3600 or speak anonymously with Crime Stoppers at 713-222-TIPS.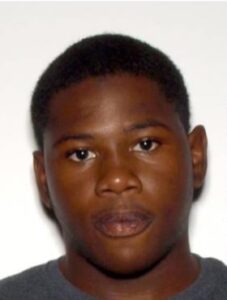 WANTED: Isaac Oliver Elmore Jr.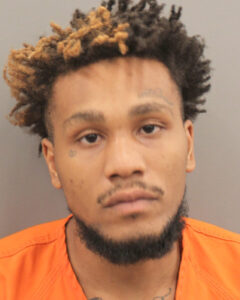 ARRESTED: Bernard Aaron Robertson
2nd Update JFC/JKS     11-29-22
Update: SOA/VHS  5-25-22
VHS/JFC   2-22-22
Inc. #023640722