Houston police have released a surveillance photo of a suspect vehicle wanted in the fatal shooting of a man at 3030 Summer Street about 3:40 p.m. on December 1.
The vehicle is a silver or light-colored Hyundai sedan with front end damage.  The surveillance photo is attached to this news release.
The identity of the deceased male, 28, is pending notification to family members by the Harris County Institute of Forensic Sciences.
HPD Homicide Division Officers L. Brooks and J. Gardner reported: Officers responded to a report of a shooting in the apartment complex parking lot at the above address and found the victim had suffered multiple gunshot wounds.  Responding Houston Fire Department paramedics pronounced the man deceased at the scene. Witnesses stated a black male suspect, wearing all black clothing, got out of the back passenger seat of a sedan with front-end damage.  The suspect then shot the victim before picking up what appeared to a be a white envelope the victim had dropped.  The suspect then got into the backseat of the car and fled in an unknown direction.   Anyone with information on the wanted suspect or vehicle in this case is urged to contact the HPD Homicide Division at 713-308-3600 or speak anonymously with Crime Stoppers at 713-222-TIPS.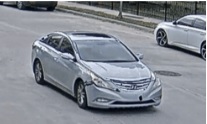 Wanted Suspect Vehicle
Update JFC/JKS  12-5-22 JKS/VHS 12-2-22 Inc. #161739722