Houston police are asking for the public's help in locating a suspect charged in an aggravated robbery that occurred at 3900 Creekmont Drive about 11:55 p.m. on June 5.
The suspect, Edrick Harrison (b/m, 19), is charged with robbery- bodily injury in the 208th State District Court.  A previous photo of Harrison is attached to this news release.
HPD Robbery Division Senior Police Officer B. Outlaw reported:
The victim, 35, was driving when she observed a two vehicle crash at the intersection of Creekmont Drive at Rosslyn Street and realized it involved a friend of hers.  While stopped at the intersection, she saw several individuals fleeing the scene and attempted to follow them.
She followed the individuals a short distance.  When she attempted to return to the original crash scene, a male suspect (Harrison) ran to her pickup truck and began assaulting her.  He then opened the truck door, pulled her from the vehicle, and attempted to drive away along with several other individuals.  Harrison was unsuccessful, apparently because he was unable to operate a manual transmission.
Harrison then fled the scene on foot, leaving behind his court information from a previous arrest.
Harrison is charged and wanted at this time.
Anyone with information on Edrick Harrison's whereabouts or any other individuals involved in this case is urged to contact the HPD Robbery Division at 713-308-0700 or Crime Stoppers at 713-222-TIPS.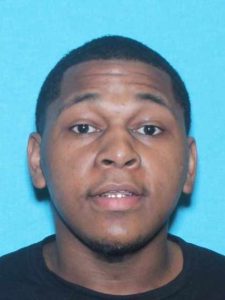 Edrick Harrison
KJS/JFC  7-12-18
Inc. #071615118