Charges have been filed against a suspect arrested in a shooting incident at 13725 Cambury Drive about 6:50 p.m. on Saturday (Jan. 14).
The suspect, Tyree Rector, 20, is charged with unlawfully carrying a weapon and evading arrest on foot in Harris County Criminal Court #5.  A booking photo of Rector is attached to this news release.
HPD Major Assaults & Family Violence Division Detectives J. Kimbrough and M. Combs reported:
An HPD North Belt Patrol Division officer was conducting a traffic stop on a vehicle when the driver (later identified as Rector) pulled into an apartment complex at the above address.  The driver later stopped inside the complex and quickly exited his vehicle holding an AR-15 pistol.  The patrol officer quickly retreated from his vehicle and sought cover in the opposite direction, as the driver ran off still holding the pistol.  As the officer was seeking cover, he heard one gunshot come from the area of the suspect's last direction of travel on foot.
Other officers set up a perimeter.  An HPD K-9 unit later found the suspect hiding inside a vehicle at an adjacent apartment complex at 13875 Ella Boulevard.  The AR-15 pistol was also located in the parking lot of the complex.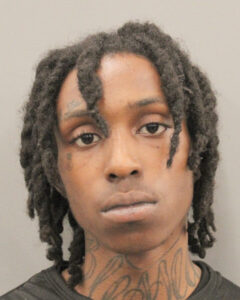 Tyree Rector
JFC/VHS  1-17-23
Inc #007015323