Charges have been filed against a suspect arrested in the fatal shooting of a man at 12261 Fondren Road about 11:25 p.m. on Sunday (June 10).
The suspect, Dentrell Adam Claverie (b/m, 21), is charged with murder in the 263rd State District Court.
The identity of the victim, 41, is pending verification by the Harris County Institute of Forensic Sciences.
HPD Major Assaults Unit Officers L. Kauffman and S. Ragsdale reported:
Officers were dispatched to a shooting call at the above address and located the victim in an apartment.  He had been shot several times.  Officers rendered aid to the man, but paramedics arrived and pronounced the man dead at the scene.
One of the victim's family members, Claverie, remained at the scene and confessed to his role in the shooting.  He was subsequently charged with murder.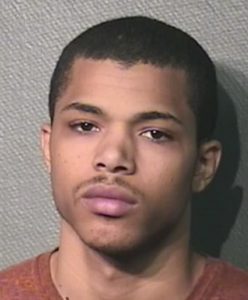 Dentrell Adam Claverie
JFC/JKS   6-11-18
Inc #073979518