Charges have been filed against a suspect arrested in a fatal crash at 6305 Tierwester Street about 1:20 p.m. on Wednesday (Aug. 14).
The suspect, Gissel Vazquez (H/f, 18), is charged with endangering a child in the 209th State District Court for her role in the death of her one-year-old son.  A booking photo of Vazquez is attached to this news release.
HPD Vehicular Crimes Division Sergeant M. Warhol reported:
A baby boy (victim) was walking through the apartment complex parking lot at the above address when he was struck by a white Chevrolet Impala.  Paramedics were called and pronounced the child deceased.  The female driver initially left the scene, but returned and was questioned by investigators.
Further investigation determined the child was left unattended by his mother (Vazquez).  She was taken into custody and subsequently charged for her role in the crash.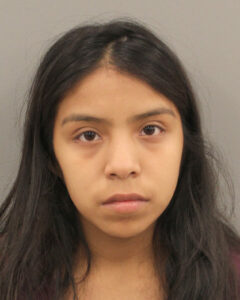 Gissel Vazquez
JFC/VHS  8-15-19
Inc #104759219-T