Charges have been filed against a suspect arrested in a fatal crash at 11231 Bissonnet Street about 5:55 p.m. on Saturday (Oct. 1).
The suspect, Pedro Alberto Hernandez, 52, is charged with murder and driving while intoxicated (third offense) in the 351st State District Court.  A booking photo of Hernandez is attached to this news release.
The identity of the male victim, 6, is pending verification by the Harris County Institute of Forensic Sciences.
HPD Vehicular Crimes Division Sergeant G. Clark and Officer F. Serna reported:
Hernandez was driving a white Chevrolet Tahoe north through a shopping center parking lot at the above address when he struck a juvenile pedestrian running across the parking lot.  The boy had run ahead of a family member as they were walking in the parking lot.  Paramedics pronounced the child deceased at the scene.
Officers questioned Hernandez, determined him to be intoxicated and took him into custody.  He was subsequently charged with two felonies in the crash.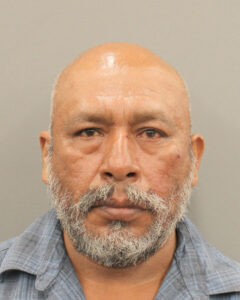 Pedro Alberto Hernandez
JFC/SOA       10-3-22
Inc #132623922-B