Houston police have released a surveillance photo of a person of interest in a burglary of a business at 401 Branard Street in July 2017.
The possible suspect is described only as a black male, 35 to 40 years of age and about 5 feet 7 inches tall.  He has black and gray hair and a black and gray goatee.
The surveillance photo of the suspect is attached to this news release.
HPD Burglary and Theft Division Officer L. Buggs reported:
Sometime between July 21-24, the offices of the business at the above address were broken into and numerous gift cards were stolen.  The suspect(s) ransacked offices and desks during the burglary.  While most of the cards were disabled, several others were used by the possible suspect.
An investigation revealed the possible suspect cashed some of the stolen gift cards at a Walgreens at 11107 Market Road on July 22.  A surveillance photo of that transaction was obtained by investigators.
Anyone with information on the identity or whereabouts of the suspect in the photo is urged to contact the HPD Burglary and Theft Division at 713-308-0900 or Crime Stoppers at 713-222-TIPS.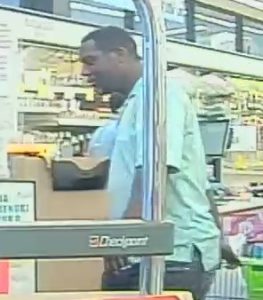 JFC/VHS   2-14-18
Inc #093261317